Every trip is given a difficulty rating to help you decide if it's right for you.
Difficulty is a relative term, and adventure is a state of mind. For some people one of our adventures may be a simple walk in the park, whilst for others it may be a terrifying, life changing experience.
In order to help guide you to the most appropriate trip for your fitness and skill level we have created a simple difficulty grading system.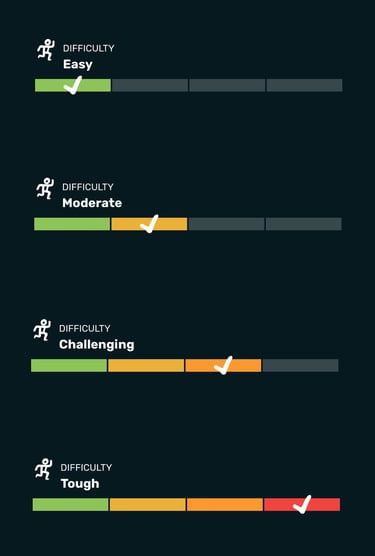 Easy
Open to anyone with a sense of adventure and love of the outdoors. Guests will likely be outdoors and active for much of the time, but will not require high levels of fitness to enjoy this.
Moderate
Hiking up to 5-6 hours per day on terrain that is rugged underfoot at times
Cycling an average 70km per day with a moderate elevation gain
Paddling at a steady rate for 4-5 hours per day in flat water
Challenging
Hiking up to 6-8 hours per day with moderate elevation gain, encountering some difficult sections of terrain
Cycling an average 100km per day and around 1000m elevation gain with some challenging ascents
Paddling at a steady rate for 5-6 hours per day in some challenging conditions
Tough
Hiking for up to 8-10 hours a day in challenging terrain with high elevation gain
Cycling an average 120km per day with challenging ascents of over 1500m elevation gain
Paddling at a moderate rate for up to 7 hours per day in challenging conditions