Yes, private group trips are available on the majority of our adventures.
To find out if it's possible to arrange a private group for the adventure you are interested in, head to the Dates and Prices panel and click on the private group option.
Here's an example from our Cycle, Safari and Stargaze in Namibia adventure: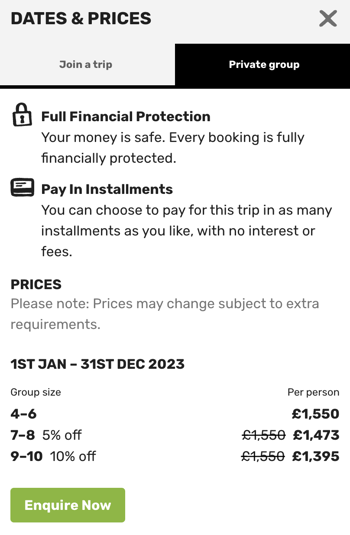 You'll find information about the date range private trips are possible between, the minimum and maximum group sizes, along with any private group discounts we are able to offer in this section.*
If you are keen to organise a private trip, get in touch with our friendly customer experience team and let us know which trip you are interested in, the date you would like to depart and the number of people in your group and we will get back to you with a quote if the trip is available.
---
Please note:
We can only offer private group versions of the existing itinerary, we are not able to arrange bespoke or customised versions of our adventures.
The min + max group size and discounts vary from adventure to adventure.
Some of our hosts are able to run private group trips for families and those travelling with people under the age of 18.Please get in touch if you are looking to arrange a trip with under 18's.