What will happen if Covid-19 affects your trips with Much Better Adventures.
Customer Cancellation Terms:
First things first, here is a reminder of our customer cancellation terms: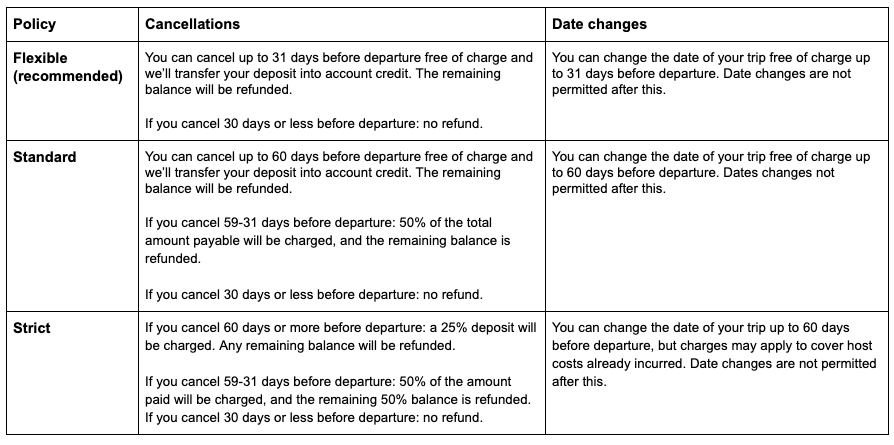 Private and Custom Groups:
Note that all private & custom groups will automatically have the Strict cancellation terms applied, to reflect the business impact to the hosts should the group wish to cancel or change their dates. This protects you whilst enabling travellers on social dates to have greater flexibility.

Host cancellation terms:
Next, here is a reminder of your cancellation terms as a host: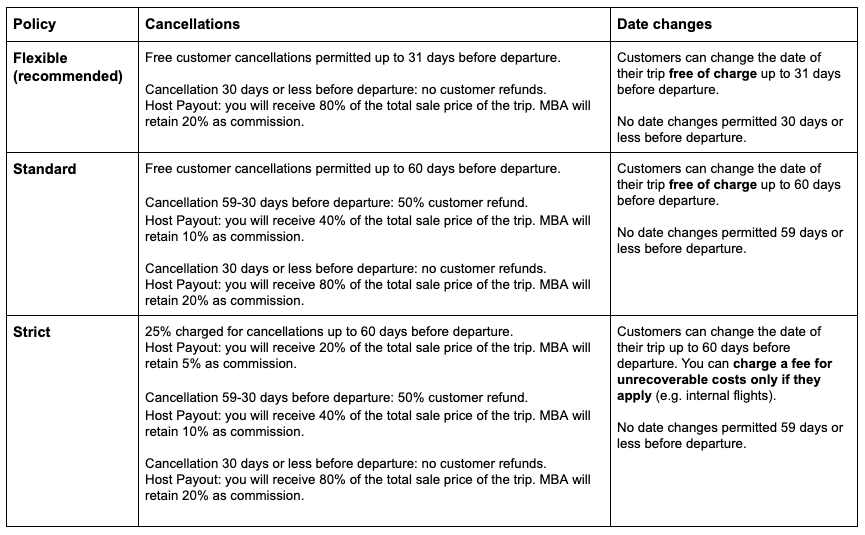 Minimum group size payment protection
Don't forget - for the majority of our hosts who run exclusive departure dates with us - a key benefit is that Much Better Adventures financially guarantees a minimum group size payout (see your Commercial Agreement), so you already have a strong safety net in the event of any cancellations before 30 days.
Date Change Fees
We aim for the vast majority of trips to offer free date changes up to either 31 days or 60 days before departure - depending on whether you choose our Flexi or Standard terms.

However - we know that for a small number of trips which involve internal flights as part of the trip, or the advance purchase of non-refundable climbing permits, there may need to be a small fee if customers need to move their dates after booking. In this event - your trip will need to be on the Strict policy. Please let us know if you will need to apply date change fees.
---
What happens if your trip is impacted by COVID:
We are only able to confirm trips to run which meet our 5 criteria (see reference to these below), including where the UK Foreign, Commonwealth and Development Office confirms travellers can go to a destination and there will be no quarantine period either on arrival in that country or on their return back to the UK.

At the moment it is difficult for customers to obtain a negative Covid test before travelling but we expect this to change very soon as testing capability improves.
Here are some scenarios and our responses to each for you:
Scenario 1
The UK travel advice changes and travellers are still permitted to travel BUT there will be a 14 day quarantine period on return to the UK. When asked, the vast majority of customers said they could not travel under these circumstances as they have to be able to work on their return.

Scenario 2
The UK travel advice changes and the country is downgraded to "only essential travel" - which excludes travel for tourism.

Scenario 3
The host country travel advice changes and customers from the UK are no longer permitted to enter the country.

Scenario 4
The customers is required to self-isolate just before travel due to contracting Covid or being required to self-isolate.
Our Response to Scenarios 1, 2, 3 and 4
The only option (legally based on the European Package Travel Regulations and from a positive customer service perspective) is to immediately cancel all departures running in the next 45 days and offer customers the same options we have been providing through COVID which is: 1) reschedule to an alternative date, 2) convert their booking value into MBA credit so they can book again in the future or 3) receive a full refund (last resort). We will then continue trip cancellations on a rolling basis 45 days before departure until the travel advice changes again.
Scenario 5
The travel advice changes during the trip and customers will now have to quarantine on their return but travel is still permitted.
Our Response:
the trip can continue as normal. If customers wish to curtail their trip this is at their own discretion.
Scenario 6
The travel advice changes during the trip and the FCO now advise against all non-essential travel.
Our Response:
The official advice from the FCO in this scenario is that if customers are able to leave immediately - they should do so, and the trip should be cut short. We will work with you to help facilitate this as soon as possible. Under EU Law - in extraordinary circumstances like these where the trip has to be curtailed, we are required to provide customers with an offer of credit towards a new trip, or partial refund based on the proportion of the trip that was cancelled.
If you want to have further clarity on the information we are providing to customers, you can read our full set of customer FAQs here.
Our customers and the media have been impressed with how we (Much Better Adventures and our community of hosts) have handled things throughout the COVID period, and we're confident this will mean customers will return as soon as it is possible to do so, and we will also gain new customers. Across the 1000's of trips we've had to cancel this year, only 25% have asked for a refund, with the majority choosing to reschedule their trip for next season. We are aware that any last-minute changes will have a significant impact on you and we hope to avoid these at all costs, but we wanted to ensure there was total clarity for everyone if these situations occur and we have to act quickly. MBA will continue to handle all customer queries in these circumstances and keep our customers happy.
Reference:
Our Baseline Criteria for re-starting trips
To help build customer confidence, we have created a minimum set of criteria, all of which must be met, before Much Better Adventures can endorse trips restarting on our platform. These are:
The UK FCO Travel Advice permits travel to that destination (with the exception of our UK / US trips, where domestic travel is possible). Until then it's not possible to get travel insurance, which all customers are required to have.

Country borders are open to tourists without any quarantine restrictions.

The local government in that destination formally approves tourism activities operating.

The host is able to run the trip whilst fully complying with all local COVID-19 safeguarding measures which are required by the local authorities.

Local safeguarding measures do not detract or alter from the fundamental quality and experience of the trip. For instance - if the activities on the trip can run largely as planned, but some minor modifications need to be made to transfers and / or accommodation