What you and your accountant need to know about how you'll get paid and what documents you will be sent for your local tax laws.
Bank details:
In order to make a payment to you for your trip, we require the following information:
IBAN / International bank account

BIC / SWIFT international bank code

Full address including postal code

EU VAT Number (if applicable)
If you haven't provided your bank and company details to us yet, please:

---
How much you receive:
Your trip payment will be the amount agreed for the group size in your Commercial Agreement.
You can view the current total number of booked pax per trip in Trips Manager

You can find your Commercial Agreement in the Documentation section of Your Company
---
Payments and notice of payment:
Here is an example of the payment advice we will send to you before making payment to you.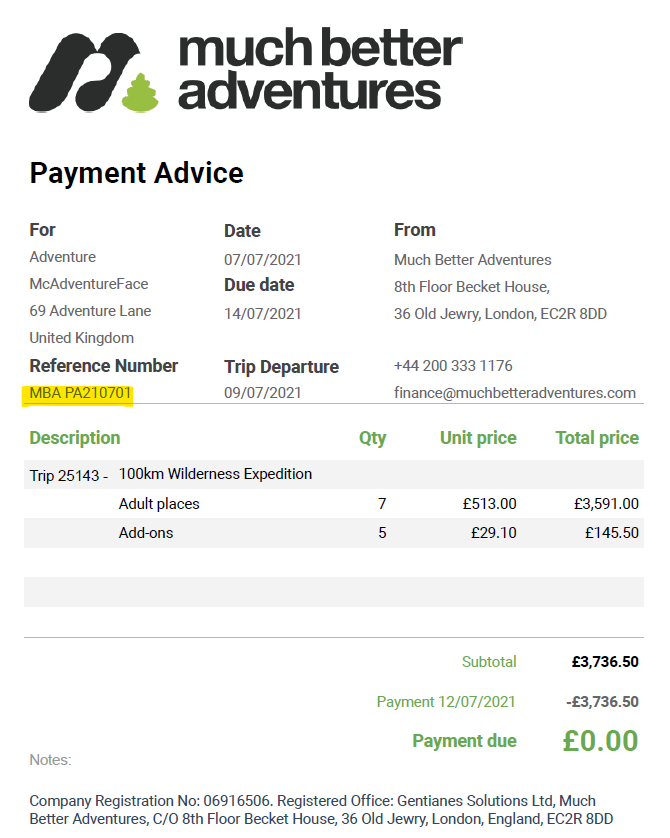 Payment advice is normally sent out on Wednesday for trips departing in the week Monday - Sunday.

Example:

Trip dates: Monday 5th July - Sunday 11th July 2021

Payment advice sent: Wednesday 7th July 2021

Payment sent: Monday 12th July 2021

You can review your payment advice and suggest any amendments if something does not match your Commercial Agreement or is not what you were expecting.

Your payment will then be sent within 7 days of the trip departing, usually on the Monday after your trip starts.

The payment advice you receive will be a self-billing arrangement and contain a unique Reference Number e.g. MBA PA210701 (as highlighted in the example above). This unique Reference Number will be the payment reference you see in your bank account.

How long will it take for the payment to arrive in my account?
UK & EU payments usually clear in one working day, with non-EU payments often taking a 2 - 5 working days.
Why don't you send payment advice sooner?
We don't send payment advice out any earlier as we find there are often amendments due to last-minute bookings, accommodation add-ons and cancellations.
---
How does invoicing work?
As outlined in the Agency Agreement in the Documentation section of Your Company, we (Much Better Adventures) act as an agent on behalf of the customers travelling on your trips.

Due to this, there are two suppliers of services as far as the tax authorities are concerned:
From you as host to the end customer for the gross sale price listed on Much Better Adventures for providing the adventure.

From Much Better Adventures to you as a host for connecting you with the customer and taking payments, invoiced in the form of commission.
How will MBA invoice me for your commission?
We will send you an invoice for our commission, usually at the time of a customers booking. As we collect payments on behalf of the customer and make payment to you when your trip starts (as outlined above), no payment will be due from you for this commission invoice.
Do I need to send my customers an invoice?
No. Under UK Law customers do not need to be provided with an invoice for their booking. Please do not send invoices to us here at MBA HQ either.

What about VAT?
For UK hosts:
The commission invoice we send to you is subject to VAT on top of our commision.

For non-UK hosts:
You will have zero-rated VAT subject to the reverse charge.
To calculate your net receipt amount:
Gross sales price - MBA commission invoice = net receipt amount.

Example:
Trip price on MBA (gross sale value) = £500

Commission rate = 20%

MBA Commission Invoice (cost of sales) = £100

VAT rules outlined above.

MBA payment advice: £400, approved by you and payment sent within 7 days.
For your accounts/tax you will then have £500 gross sale value and £100 cost of sales, giving you £400 net receipt amount.
---
Have a question?
If you have any questions please email finance@muchbetteradventures.com and we will happily clarify everything for you.